Welcome to my Mustang's page. Okay, if you think it's corny to have a page for your car, then you're not a true Mustang fan or that thought would never have crossed your mind. This page is dedicated to my wife, Carolyn Jones, for buying me this beautiful 2004 Mustang Mach 1 for my 33rd birthday. You just got to love a woman that would do that for you!
Look around and see some of the modifications I've done. If you have any questions, feel free to contact me at: tjones@myriadminds.com
If you're looking for a Mach 1, North Brothers Ford (33300 Ford Road, Westland, MI 48185 734-524-1222).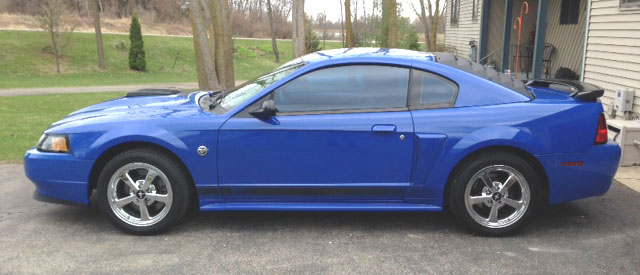 CAR PHOTOS - NON-PERFORMANCE MODIFICATIONS
Steeda Door Locks (partsshopper.com)

Steeda Billet Aluminum Climate Control Knobs (partsshopper.com)

Billet aluminum Brake Handle (mustangtuning.com)

Mach 1 T-Shifter Handle (partsshopper.com)

Mach 1 Floor Mats (partsshopper.com)

Mach 1 Billet Aluminum / Anodized Fuel Door (mustangtuning.com)

Mustang Stainless Steel Insert Rear Bumper Letters (partsshopper.com)

35% Blue Tint Windows

Sequence Turn Signals (click here to see turn signal - .wmv) (mustangtuning.com)

SpinCaps Valve Stem Caps (partsshopper.com)

AFS Chrome Front and Rear Rims 17x9 OEM Look-a-Like (afswheels.com)

Smoked Headlights (uprproducts.com)

Replacement Mach 1 Hood Decals (uprproducts.com)

Replacement Lower Front Black Valence/spoiler (americanmuscle.com)

Rear ABS Plastic Louvers (americanmuscle.com)
CAR PHOTOS - PERFORMANCE MODIFICATIONS
Dyno run from Livernois Motorsports said 285.8 HP @ 6000 RPM and 296.5 torque @ 4250 RPM
DiabloSport Predator for Mach (custom tuned by Livernois Motorsports)

Flowmaster Cat-Back American Thunder Exhaust (click here to listen to exhaust - .wmv) (partsshopper.com)

MRT H-Pipe w/Cats & Flowmaster (click here to listen to exhaust - .wmv)

K&N Air Filter

Steeda Under-drive Pulleys (partsshopper.com)

Raised the Shaker Scooper 1/4" (3 washers)

Pony Resonator plug

Goodyear F1 G3 275/40ZR17

Tire
Size
Service Description
Sidewall
Approved
Rim Width
Meas.
Rim Width
Section
Width
O.D.
Tread
Width
Max.
Load
MSRP*

275/40ZR17

98Y

VSB

9.0- 11.0

9.5

10.8

25.7

9.4

1,653 @ 35

$297.95
CAR PHOTOS - STOCK